December Update 2019
I'd like to offer a warm welcome to the first Chatforge monthly update where we will run through what we have been working on over the last couple months, announce some exciting products and explore our plans for the future.
Conductor
I'm delighted to announce that Conductor is now available for general release for Slack & Drift as chat providers, with Microsoft Teams in beta.
Conductor is a conversational support solution that combines the ease and efficiency of using a chatbot with the depth and experience human-based live chat can provide.
63% of consumers said that they are more likely to return to a website that offers live chat over phone support due to quicker resolution time, ease of use and improved accessibility. Live chat also offers significant advantages for your customer service operations; it's cheaper, more efficient, more pervasive and easier to monitor.
But having live chat is often not enough, your first line support is going to be inundated with frequently asked, simple to answer questions or recurring, monotonous requests. Instead, their time could be spent improving your internal processes and dealing with more complex issues.
This is where Conductor comes in with it's three stage approach; smart FAQs, recurring transactions and handover to agents. To learn more please get in touch.
App
One of our priorities is to have a home for all things Chatforge to help us and our partners demo and understand the range of solutions we provide. This app helps us and our partners showcase our solutions, news & updates and interact with real bots which demonstrate real business value. The best aspect of that is that those bots are then packaged in a way where getting them in the hands of your end users is easy & fast.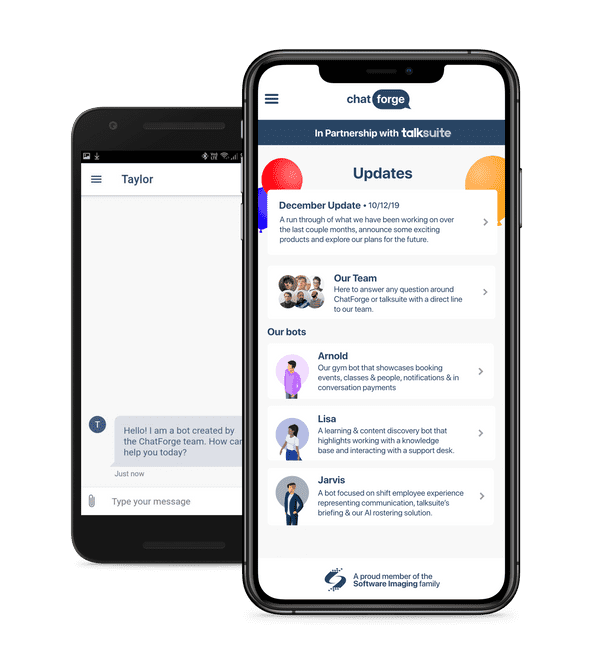 We are targeting release for iOS and Android early January but if you can't wait that long please get in touch and we can get you access to the beta.
Our team
Our first bot that we wanted to create was to automate ourselves! Using Conductor we now have an our team bot that is availible in the app and on our website that can answer your questions about us, the technologies we use, our services and solutions or anything else you want to ask us!
We're excited that we can implement our own solution, and we invite you to give it a go.
Future
We're happy and confident with what we've done so far and couldn't be more excited on our plans for the new year and beyond. As the holidays are approaching, I'll give you a little treat of what's to come.
Arnold - Our gym bot that showcases booking events, classes, notifications & in conversation payments
Lisa - A learning & content discovery bot that highlights working with a knowledge base and interacting with a support desk.
Jarvis - A bot focused on shift employee experience representing communication, talksuite's briefing & our AI rostering solution.